Organize your Events at our Conferences
Gastroenterology is a subspecialty branch of internal medicine certified by the American Board of Internal Medicine (ABIM) and the American Osteopathic Board of Internal Medicine (AOBIM). This stream mainly focuses on the abdominal organs, their functioning and related abnormalities which hinder the normal functioning of the vertebrates.

Gastroenterology is the study of gastrointestinal tract, which include various organs from mouth to anus, along the alimentary canal. Experts working and practicing in the particular field are recognized as gastroenterologists. A gastroenterologist should understand the normal physiology of the alimentary canal organs in order to continue healthy digestion, absorption of nutrients, and excretion of waste for further metabolic processes. These eminent members complete their degrees focusing on digestive metabolism, intestinal functioning, enzyme secretion, transplant technology, advanced endoscopy, inflammatory bowel disease (IBD), motility and other popular subjects.

Gastroenterology stream confronts the normal function and diseases of the esophagus, pancreas, gallbladder, bile ducts, liver stomach, small intestine, colon and rectum.
Gastroenterology conferences provide an international platform for young researchers, students and practitioners to meet the eminent presenters and delegates including clinicians, researchers, surgeons, gastroenterologist, hepatologists, endoscopy experts, health care practitioners, treatment providers as well as industrial leaders from all across the globe. Gastroenterology conferences are being organized in USA, Europe, Middle East, Asia-Pacific and Australian countries, to share the recent advancements of the related stream.
2020 conferences
2021 conferences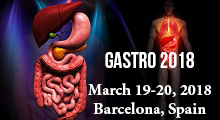 Gastroenterology Conferences | Gastroenterology Meetings |Bariatric surgery Conferences:
Gastroenterology Conferences March 19-20, 2018 Barcelona, Spain
Theme: Outlining the Forefront Research in the Field of Gastroenterology
Conference Highlights:
General Surgery, Bariatric surgery, Hepatocellular Carcinoma (Liver Cancer)
Pancreatic diseases, Inflammatory bowel disease, GI bleeding, Pediatric / Neonatal Gastroenterology and Nutrition, Viral Hepatitis and Liver Fibrosis, Gastrointestinal Oncology, Orthotopic Liver/Pancreas transplant, Gastrointestinal Radiology, GI Pathology, Gastroenterology Conferences 2018 USA, Gastrointestinal Therapeutics, Helicobacter Pylori Infection, Neurogastroenterology and Motility – current research and future aspects, Gastrointestinal diseases and pregnancy, Gastroenterology - animals models and future perspectives, Probiotics as Gastrointestinal Therapeutics.
---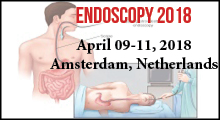 Endoscopy Conferences | Gastrointestinal Conferences| Digestive Diseases Conferences:
Endoscopy Conferences April 09-11, 2018 Amsterdam, Netherlands
Theme: Promotion of Safe Practice & Advancements in Endoscopy and Imaging
Conference Highlights:
Endoscopy, Digestive Diseases, Pancreatic Cancer, Complications in Endoscopy, Surgeries, Liver Diseases and Gastroenterology, Diagnosis, Treatment, Gastrointestinal Oncology, Abdominal and Gastro-intestinal Radiology, Endoscopy Conferences 2018, Abdominal and Pelvic Ultrasound, Imaging in Transplants, Endoscopy Conferences 2018 USA, Imaging Techniques of Abdomen and Pelvis, Inflammatory bowel disease (IBD), Oncologic Imaging.
---
Hepatitis Conferences | Liver Conferences | Hepatology Conferences:
Hepatitis Conferences April 09-11, 2018 Amsterdam, Netherlands
Theme: Raising global awareness on screening and prevention of hepatitis
Conference Highlights:
Hepatitis, Hepatitis Conferences USA, Hepatitis Vaccination, Non-Viral Hepatitis, Hepatocellular Carcinoma, Liver Diseases, Hepatology Conferences 2018, Liver Diseases Diagnosis, Hepatitis Conferences USA, Liver Transplantation and Surgery, Gastroenterology, HCV/HIV Coinfection, Hepatitis B, Hepatitis C