Organize your Events at our Conferences
Nutrition is the combination of catabolism and anabolism of food in the body. Nutritional Science investigates the Metabolic and Physiological responses of the body to diet. The study of Human Nutrition is increasingly concerned with Metabolism and Metabolic pathways, the sequence of biochemical steps through which substances in living things change from one form to another.
It has been acknowledged that unhealthy eating and physical inactivity are leading causes of death. According to recent surveys, unhealthy eating and inactivity cause 310,000-580,000 deaths every year. Unhealthy eating and nutritional deficiencies are the major causes of the deaths. On the other hand, sales of vitamins and dietary supplements showed a positive growth trend, and sales contribution of herbal supplements and sports nutrition was the largest. Rising income levels, aging baby boomers, changing lifestyles, an increased focus on health, and high incidences of diseases are some of the factors that are driving the demand for nutrients & supplements in the market. Despite the recession, the industry has shown growth, particularly in the case of herbal, sports and weight loss product categories.
2018 conferences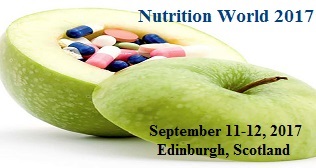 Nutrition Conferences | Food Conferences | Nutrition Conferences, Europe | Nutrition & food Conferences
Nutrition Conferences September 11-12, 2017 Edinburgh, Scotland
Theme: Proliferation of the schooling of Nutrition and Food Technology
Conference Highlights:
Food and Nutrition, Nutritional Science, Nutrition and Health, Public Health Nutrition, Super food and Functional Foods, Human Nutrition, Nutrition during Pregnancy and Lactation, Nutrition and Oncology, Food Biotechnology and Microbiology, Probiotic in nutrition advancement, Food Safety and Security Challenges, Food Waste Management, Food Chemistry and Biochemistry, Food Technologies and Processing, Food Industry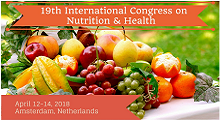 Nutrition Conferences | Nutrition & Health Conferences | Nutrition & food Conferences
Nutrition Conferences April 12-14, 2018 Amsterdam, Netherlands
Theme: Amalgamation of competent researchers across the globe to foster the novel research in the field of Nutrition & Health
Conference Highlights:
Nutrition & Health , Food and Nutrition , Nutritional Science , Pediatric Nutrition, Innovative Information in Nutrition, Nutritional Deficiencies , Nutrition and Food Safety, Nutrition in Cancer Treatment , Importance of Nutritional Therapies, Childhood Obesity and Weight-Loss Nutrition , Plant nutrition and Nutraceuticals, Nutritional Epidemiology, Animal and Livestock Nutrition , Parenteral Nutrition , Clinical Nutrition, Sports Nutrition, Nutrigenetics and Nutrigenomics, Women and Maternal Nutrition-Dietary Plans, Diabetic Nutrition and Meal Plans, Anaemia and Nutritional Illness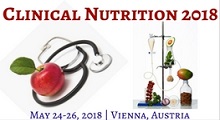 Clinical Nutrition Conferences | Nutrition Conferences 2018 Europe | Nutritional Conferences | Food & Nutrition Conferences
Clinical Nutrition conferences May 24-26, 2018 Vienna, Austria
Theme: Better Care through Better Nutrition
Conference Highlights:
Nutrition, Obesity and Diabetes, Public Health Nutrition, Nutrition in Women and Postmenopausal diet, Nutrition and Cancer Prevention, Diabetes Nutrition, Animal & Plant Nutrition, Nutrition and Cardiovascular Health, Nutrition Conferences 2018 Europe, Probiotic Nutrition and Enteral nutrition, Nutritional Physiology and Food Biochemistry, Nutrition Congress 2018 Asia, Nutritional Disorders and Treatment, Paediatric Nutrition and Obesity, Nutrition Conferences 2018 USA, Genetically Modified (GM ) Foods and Nutritional Supplements, Current research in Nutrition and Food sciences, Sports Nutrition, Role of Nutrition in Disease Prevention, Malnutrition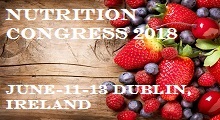 Nutrition Conferences | Nutrition Events | Nutrition Meetings | Nutrition Conferences 2018
Nutrition Conferences June 11-13, 2018 Dublin, Ireland
Theme: Highlighting latest advancements in Nutrition and Dietetics & Application of Nutrition Knowledge for better and healthier life
Conference Highlights:
Clinical Nutrition, Sports Nutrition & Kinesiology, Plant Nutrition, Animal and Diary Nutrition, Malnutrition or Nutritional Deficiency, Nutrient related Chronic diseases, Nutrition and Cancer, Nutrition in Pregnancy and Lactation, Paediatric Nutrition, Nutrition During Adolescence, Diet in Obesity and Underweight, Nutrition Conferences 2018 USA, Diet for Gastrointestinal Diseases, Nutrition and Psychology, Nutrition, Health and Choice,Nutrition Conferences, Current Research in Nutrition and Dietetics, Food and Nutrition, Nutritional Epidemiology, Food Science & Chemistry, Public Health Research, Diet & Appetite, Vitaminology & Lipidology, Nutritional Neuroscience & Eating Disorders, Renal Nutrition & Metabolism, Nutraceuticals & Medicinal Foods, Nutrition Conferences 2018 Asia, Holistic & Integrative Nutrition, Food & Nutritional Immunology, Food & Nutritional Toxicology, Food & Nutritional Metabolomics, Protein Science, Behavioral Nutrition & Physical Activity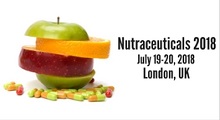 Nutraceuticals conference | Natural Medicine Conferences
Nutraceuticals conferences July 19-20, 2018 London, UK
Theme: Highlighting the latest advancements in Nutraceuticals and Natural Medicines
Conference Highlights:
Dietary Supplements, Functional Foods Multivitamin supplements, Nutraceutical Bioactives, Prebiotics and Probiotics, Nutraceuticals in Cancer Therapy, Nutraceuticals conferences USA, Nutraceuticals for Cardiovascular Health, Nutraceuticals in Weight Management, Herbal Medicine, Nutraceuticals conferences Asia, Traditional Medicine, Acupuncture, Restorative & Alternative Medicine, Recent Trends in Natural Medicines and Nutraceuticals, , Nutraceuticals conferences 2018, Research, Natural Medicines, Nutraceuticals and Natural Medicine Products, Neurocognition, Alzheimer's Disease & Dementia, Pharmacognosy & Phytochemistry